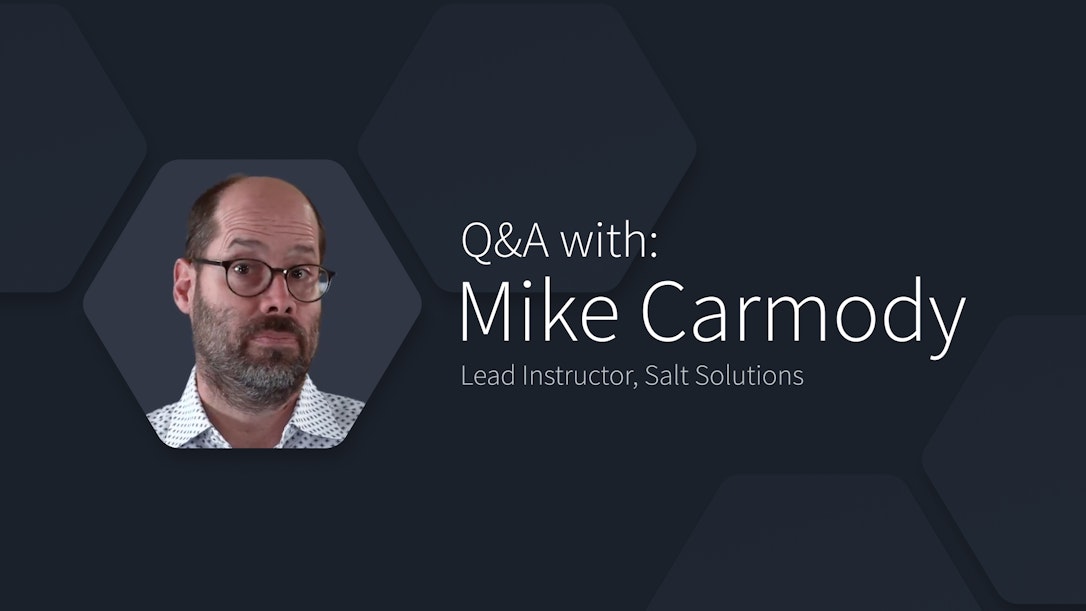 Q&A with Mike Carmody, CFA
Salt Solutions lead instructor Mike Carmody, who has been preparing students for their exams for over 20 years, is a thoughtful, creative, and passionate guy. We wanted to hear from him firsthand on why he thinks Salt Solutions is your best choice to prepare for the CFA exam, so we asked him a few questions. Seven, to be exact.
You will also learn what Mike does in his spare time. Would you believe it still involves teaching, encouraging, and coaching others? True!
TEAM SALT SOLUTIONS: You've been a leader on this project. Why did the Salt Solutions team feel it was an urgent need to launch a new CFA product like ours?
MIKE CARMODY: When we launched Salt Solutions, we realized there were many prep providers already available. But we wanted to create an experience that was modern and efficient, focused on helping candidates pass with confidence. We wanted the study process to feel complete and consistent, allowing the candidate to simply follow the plan. In other words, the candidate can just focus on studying, not what to study or how to study.
TEAM SALT SOLUTIONS: What do you feel are the key reasons why a candidate should choose our platform over another?
MIKE CARMODY: Our platform is the most user-friendly and intuitive system available. The video quality makes learning easy on the eyes and ears. The practice questions are very consistent with what you'll see on the actual exam, so you won't be surprised on exam day. And Salt Solutions instructors are standing by to answer your questions about specific content, or just studying in general. We will be on your team until you pass the exam.
TEAM SALT SOLUTIONS: In your experience, what is the most challenging part of the CFA prep process and how does Salt solve it?
MIKE CARMODY: The most challenging part of the CFA prep process is simply the volume of material. The syllabus is extremely large. That can be overwhelming, if you think you have to know everything to pass the exam. Salt helps draw out the most important content, and explain it in a way that prepares you to answer exam questions. We avoid getting lost in the weeds that are not important for passing the exam. If you learn the material we cover in Salt, you'll be ready for the exam.
TEAM SALT SOLUTIONS: What's the primary benefit you've seen in your life from earning your charter?
MIKE CARMODY: Becoming a CFA Charterholder earns you respect in the investment community. Others know you have passed a series of very difficult exams, demonstrating you understand investments and related topics. You will have instant credibility when you work with coworkers or clients.
TEAM SALT SOLUTIONS: When you were preparing for your charter, do you wish you'd had Salt Solutions there to assist you?
MIKE CARMODY: It would have been much easier to pass the CFA exams with Salt. That would have allowed me to simply follow a well-worn process, and not stress about missing key concepts. I could have walked into the exam knowing I was going to pass, rather than just hoping I would pass.
TEAM SALT SOLUTIONS: What's the next step for Salt from here—where do we go next to get even better?
MIKE CARMODY: We listen to our customers at Salt. That will allow us to keep making the study program better and better. We can enhance explanations for difficult concepts, create more questions that simulate the real exam, and provide more visual feedback for customers so they can track their progress.
TEAM SALT SOLUTIONS: What do you enjoy doing when you aren't leading Salt Solutions?
MIKE CARMODY: When I'm not leading Salt Solutions, I enjoy hanging out with the family, running, and playing sports. I also coach a middle school and high school running team, which allows me to interact with fun young runners.